Holy Gravel Winter-Edition - 190 or 465 km Gravel Deluxe
The four seasons are to the Holy Graveler what is the trinity to Christianity*
Dear disciples,
Soon we will face the time when we will be tempted to fall for the seven sins:
The time of Christmas gluttony.
The time of violent phantasies towards your next ones out of lower motives.
The time of resentment for the better presents and other unholy thoughts and cravings.
During the last episode of the Holy Gravel you will not only face the cold and the dark of a short winter day but you will also get the chance to pedal yourself free from all your sins.
Let us all strive for salvation during this last mess.
Thou shalt cure your lazy carcass from the couch.
GET ON YOUR BIKE.
Thou shalt not overindulge yourself.
GET ON YOUR BIKE.
Thou shalt not crave your next ones ride.
GET ON YOUR BIKE.
Thou shalt save your arrogance for the deepest mud.
GET ON YOUR BIKE.
Thou shalt keep your resentment for the better tire of your companion to yourself.
GET ON YOUR BIKE.
Thou shalt keep your frustration over your flabby calves to yourself.
GET ON YOUR BIKE.
Thou shalt not be stingy with your donation.
GET ON YOUR BIKE.
On the 27.12.2021 we will meet on Entenwerder 1 for the start of the 4th Holy Gravel.
In this winter edition you will have the choice between 190 km or 465 km. Both tracks will frequently pass by train stations and will follow the same route for the first 70 km. For that reason, we will start all together unless restrictions won´t allow us to. 
Rüm hart – klaar kiming!
* there will be one Holy Gravel per season. Autumn, summer and spring are history, the winter edition will be legendary.
Monday 27.12.2021 / 07:00 a.m.
Elbpark Entenwerder, Entenwerder 1, 20539 Hamburg
Sunrise 08:37 a.m. | Sunset 04:05 p.m. | Crescent moon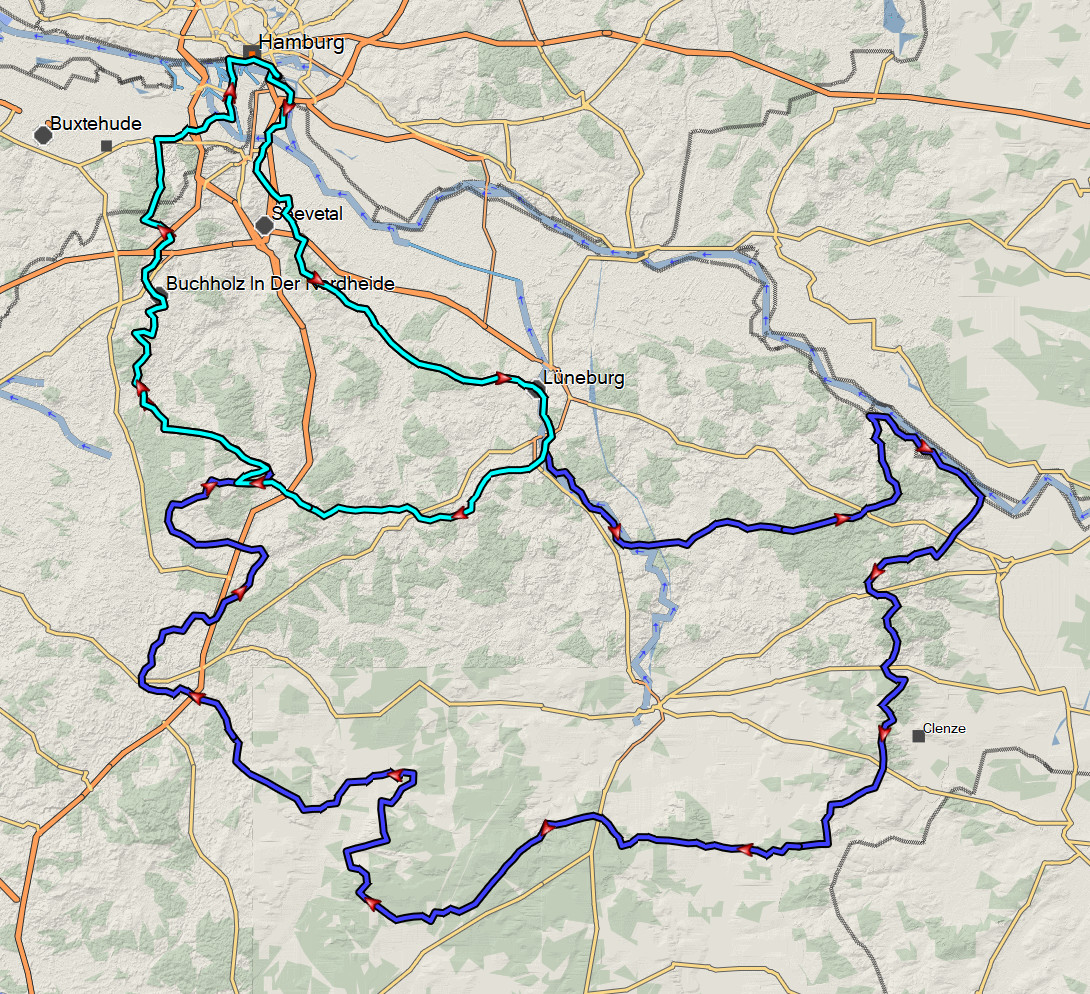 Caps, donations, what does it cost?
The Holy Gravel is and will not be commercial!
Your donation to a non-profit organization will be mandatory in 2021, as will the order of the Holy Gravel cycling cap, because many people wanted one afterwards.
We simplify the process for everyone involved by collecting the money via Paypal. You will receive all the necessary information with the confirmation of registration.
We will transfer the donations to Caritas and UN Women immediately after the event. Until then you still have the opportunity to increase the amount.
Attention: in order to receive your personalized Holy Gravel Cap, your donation must be received by us by Sunday, November 14th, 2021.
If you don't have a cap in your mailbox on the start date, you will receive one at the start.
You can choose between two donation recipients:
Caritas, with its huge offer for people in need in Hamburg https://www.caritas-hamburg.de/spende/spendenprojekte/
UN Women Germany is committed to gender equality, women's rights, the end of violence against women and the elimination of all forms of discrimination against women. https://www.unwomen.de/
From a donation amount of 100, – EUR, we will take care of your donation confirmation for the tax.
Holy Gravel is not a race, no guided tour and it´s non-commercial.
The rules are quite simple, everybody acts on his own responsibility at any time. Be nice to your environment, don´t litter, stay on the trails. Pedestrians and equestrians are less scared of you, if you shout out a loud "MOIN" about 50 meters before you pass them.